Affordable Website Designs
Enhance your Web Presence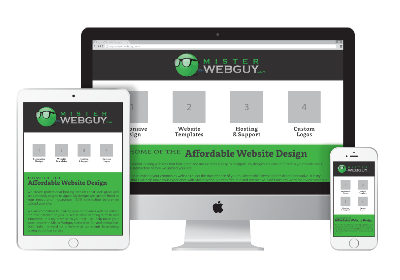 At Mister Webguy we strive to give you the best possible price to fit your needs and your budget without sacrificing quality. All our custom designs are 100% responsive to provide your visitors with the best possible experience whether they are viewing your website on a computer, tablet or smart phone! Please read below for more information on Responsive Design.

This is how it works. We will collect some basic information about you and your business, design requirements, and website expectations and come up with the best possible quote in a timely manner. All quotes will be given within 24 hours once all requirements have been provided.

Contact Us for an Estimate
Responsive Website Designs
Did you know that over 50% of mobile users are likely not to return to your website again if they are not happy with the performance during their first visit?

It's becoming more and more common for websites to be viewed on cell phones and tablets. As you know, many websites are very difficult to use on anything but computers. Previous solutions to this common issue were to build a mobile website to run along side your desktop website. This would force owners to maintain two different websites and become quite costly. To compound the problem mobile companies would bring out new sizes of tablets and smart phones forcing us to go back to our web developer to re-write our websites to make display properly again.

Responsive Web Design technology allows a single website to be displayed on ALL devices regardless of their size! With the ability to scale text and images and rearrange the page layout to adapt to any device this may be the last website you will need. That's right! One website that is future proofed against any device that exists today or that will potentially be built tomorrow.

By leveraging the power of Responsive Web Design, you will ensure the best experience for you clients regardless of what device they are viewing your website on.